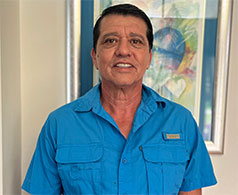 Glenn Blakeman returned to his horticultural roots in 2005 when he teamed up with his life and business partner, Robin, to purchase Foliage Design Systems of Palm Beach (FDS of Palm Beach Inc has rebranded to Foliage Décor Services summer of 2023). Having been raised on a family owned nursery in Miami, Fl , this business was a natural fit.
Glenn offers expertise that is without equal in the South Florida Market. Whether it's hand selecting the very best foliage available anywhere from Ft. Pierce to Homestead, or building the perfect customized solution to any client's installation request. The numerous close relationships he has fostered over the years, affords him selections unavailable to our competitors. Our proximity to the industry's best foliage suppliers means that we can transport our live cargo personally, rather than using a trucking line. This ensures your foliage will always arrive in top shape and feature the WOW factor.
Glenn's attention to detail, combined with his construction experience ensures that your vision can be created in a beautiful and healthy manner. Additionally he is able to build replica foliage displays to fit any unique space – even those with limited space and access. This precise attention to details and custom approach is included in all of our installations. Our customers are our reputation and their compliments are fuel for the fire.
Glenn's other interests include fishing, boating, and all things sports. He resides in the Acreage with his wife, Robin, and lovely daughter, Jennifer.