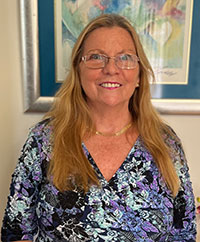 Robin Blakeman brings 37+ years of horticultural management experience fist with Foliage Design Systems (FDS), in the South Florida market. FDS of Palm Beach Inc has rebranded to Foliage Décor Services summer of 2023. Robin has a longstanding passion for all things green and has been an industry leader since Dec 1, 1986!
Starting as the office manager of the Miami office of FDS in 1986, Robin is now Principal of FDS of Palm Beach, Inc. DBA Foliage Décor Services. She holds a BA in Business Administration, graduating Suma cum laude from Florida International University while working full-time and raising her family.
She is a State Licensed Pest Control Operator Turf & Ornamental and a Certified Trainer for Green Plants for Green Buildings for decades. Learn More http://greenplantsforgreenbuildings.org Amongst many such outreach endeavors, she supports industry international research efforts detailing the air purification properties of live foliage (indoors), and has long been involved with educational efforts tied to Integrated Pest Management, increased building occupant comfort; and industry best practices.
This vibrant green ambassador and landscape-design professional was selected as Small Business Person of the Year for 2011 by the Chamber of Commerce of the Palm Beaches. She and her husband / partner Glenn Blakeman have been lovingly growing FDS of Palm Beach Inc. Since 2004.
Robin's other passions include jogging and biking in the great outdoors, container vegetable gardening, reading, and spending precious down-time with family and friends. She and her partner/husband, Glenn, live in The Acreage
Small Business Person of the Year Award Winner in 2011
Source: palmbeachpost.com
I love feedback, please visit my reviews page to leave me a testimonial – Thanks